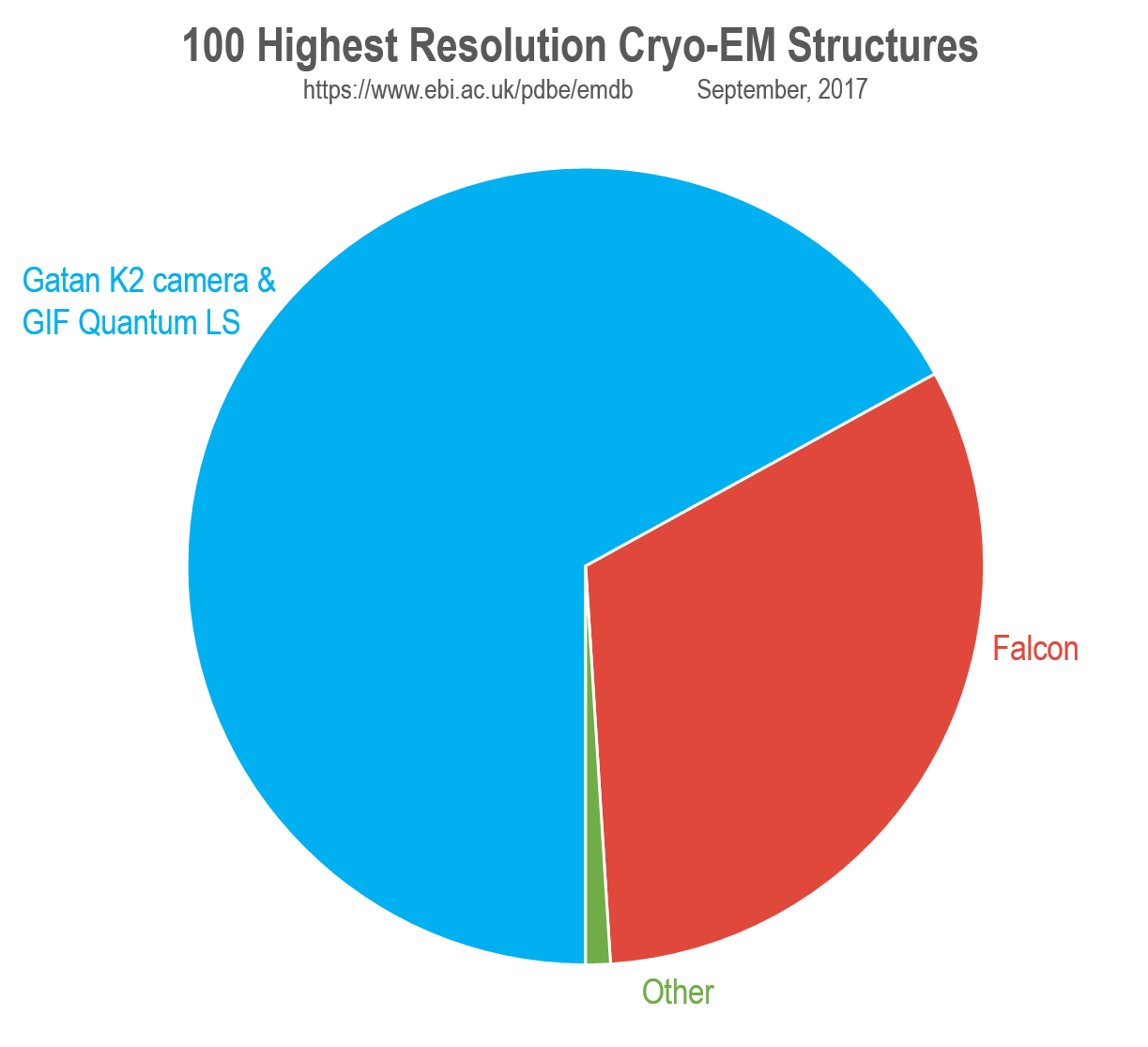 The Royal Swedish Academy of Sciences has decided to award Jacques Dubochet, Joachim Frank and Richard Henderson the Nobel Prize for Chemistry 2017 for "developing cryo-electron microscopy for the high-resolution structure determination of biomolecules in solution".  
Scientific Background on the Nobel Prize in Chemistry 2017: The Development of Cryo-Electron Microscopy
Cryo-EM, Nature's Method of the Year, 2015, is being led by the technology and innovation behind the Gatan's direct detection cameras (K3™ and K2®).
"At present only the Gatan K2, when operated in counting mode, can produce a DQE(0) as high as 80% in conjunction with reasonably small exposure times. The K2 detector frame rate is about 10 times higher than that available with the two other detector brands."– Subramaniam, S., Kuhlbrandt, W. & Henderson, R. (2016). IUCrJ 3, 3-7.
什么是单一微粒冷冻电子显微术?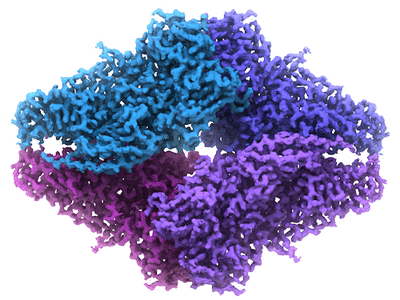 单一微粒冷冻电子显微术 (cryo-EM) 是一项逐步普及的技术,结构生物学家利用这项技术以原子级的分辨率解析结构。这项技术实现了对 X 射线晶体学的补充,因为它无需使用晶体样品即可显示结构细节。通过在玻璃状(非晶体)冰中观察冷冻含水样品,可以保留天然状态的样品超微结构、缓冲液和配体分布。冷冻电子显微术还采用核磁共振 (NMR) 技术补充了结构研究,因为它可研究大于 150 kDa 的样品。结构生物学家经常使用冷冻电子显微术来研究病毒、小细胞器和高分子生物复合体,以及超分子组装体或机器中的分子间相互作用。
在冷冻电子显微术中,通常使用透射式电子显微镜 (TEM) 记录每个样品的数千乃至数十万个完全相同但随机分布的微粒(分子)的高分辨率图像。然后使用图像分类算法对这些图像进行分组、对齐和平衡,以区分 3D 分子的多个方向。利用优质的样品,冷冻电子显微术能够以接近 2 Å 的分辨率解析分子结构;而在几年之前,这样的分辨率水平简直让人难以想象。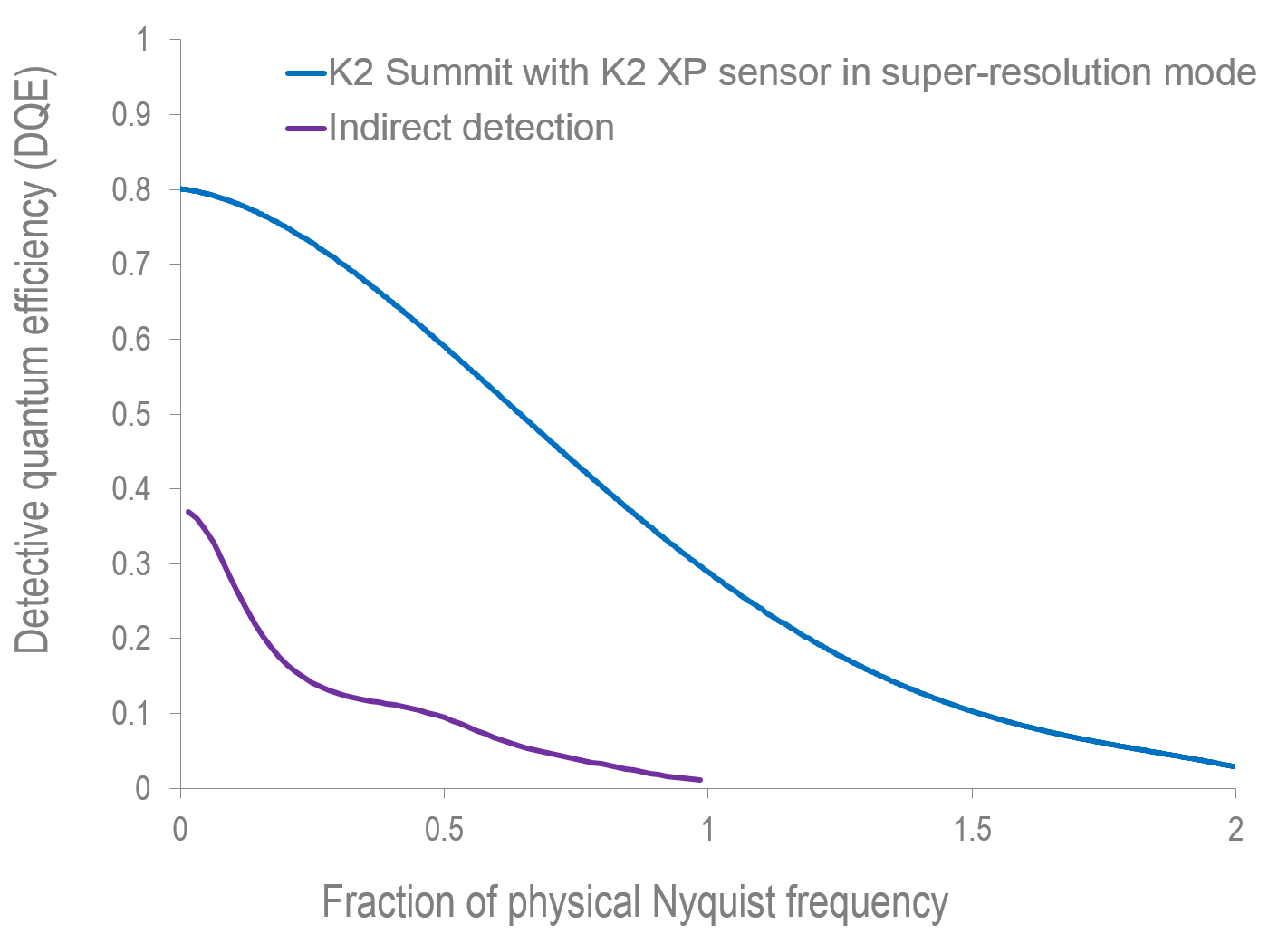 冷冻电子显微术分辨率的迅速完善被称为"分辨率革命",它是直接检测照相机带来的直接结果。传统的电子显微术照相机使用一个闪烁计数器将电子图像转换为光图像,然后使用一个光纤面板将图像传输到 CCD 或 CMOS 图像传感器,以用于模拟记录。结果经过转换和记录后,会丢失高分辨率细节,这使得冷冻电子显微术一直无法发挥它的真正潜力。
现在,直接检测照相机可以直接测量电子图像,从而避免了传统照相机转换步骤所造成的细节丢失。Gatan K2 Summit 照相机是一种独特的直接检测照相机,采用一种电子计数与超分辨率技术来记录图像。这项技术可以实时识别和计算单个电子图像,同时也可以拒绝模拟读取噪声。正如 K2 Summit 照相机所示,Nyquist 频率达到一半时,检测量子效率 (DQE) 性能可以达到无与伦比的 52%;与传统照相机相比提高 6 倍以上。
分辨率的有效界限
K2 Summit 照相机通常与 GIF Quantum LS 图像滤波器结合使用,不断取得刷新分辨率有效界限定义的突破性成果。很多前沿出版物都展示了这些产品,同时在对较小的分子进行较高的分辨率重建时,经过完善的数据获取和图像处理策略仍然处于重要地位,例如 β-半乳糖苷酶的 2.2 Å 结构。

上图中显示的所有数据点均来自 www.EMDataBank.org 在 2015 年 5 月列出的结果(分辨率高于 3.8 Å)。正如此处所示,K2 Summit 和 Quantum LS 检测器定义了有效界限。
单一微粒冷冻电子显微术的优势
单一微粒冷冻电子显微术提供可媲美 X 射线晶体学的结构分辨率,因此具有许多独特的优势,可以增加这项技术对结构生物学家的吸引力:
| 功能 | 优势 |
| --- | --- |
| 在天然的含水状态下检测结构 | 在生物相关环境中保存样品,包括样本和缓冲液浓度 |
| 支持研究较大的组装体 | 可用于描绘大于 150 kDa 且包含多个亚单元、由不同成分形成、处于亚稳状态或极难结晶的分子 |
| 说明原子级分辨率结构 | 除了 α 螺旋和 β 褶板,还可观察不对称的侧链、氢键和水分子 |
| 控制化学环境 | 您可改变实验条件,以检测分子在不同功能状态下的行为 |
| 消除结晶步骤 | 避免耗时较长且不确定的制备步骤;缩短您的发布时间 |
单一微粒冷冻电子显微术工作流程
第 1 步:净化

要使用单一微粒冷冻电子显微术研究分子,样品必须经过净化并且结构必须完整,才能实现优质的 3D 重建。理想情况下,您需要将样品放在缓冲液中,以保持其生化活性。样品中的分子浓度应足够高,以便您能够在显微镜下观察分子,但是不能太高而使分子聚集。最后,应优化实验条件,以使待研究的分子达到统一的构象状态。

第 2 步:进刀冷冻

每个样品都将被冷冻,以防止其在显微镜的真空里冻干。近乎瞬间冷冻可以防止形成水晶体,因为水晶体会破坏样品结构。

首先,将溶液中的少量样品放到 TEM 网格上,然后使用吸墨纸轻轻吸掉多余的液体。然后将 TEM 网格插入液态乙烷,迅速浸湿样品,去除热源,然后产生非晶体或玻璃状冰。图中显示了吸取液体和将样品浸没在液态乙烷中之前的 Cryoplunge® 3 系统。

第 3 步:转移到 TEM 中

冷冻之后,您可将样品转移到专用的 TEM 样品杆,使其保持液氮温度。为了防止样品受到污染,当您将样品装载到样品杆中时,低温工作台可以保护样品,然后从工作台转移到 TEM 的过程中,使用低温防护罩封住样品。正如此处所示,在插入到 TEM 中之前,低温转移样品杆会从工作台缩回。

第 4 步:样品成像

当暴露在电子环境中时,样品的结构完整性会遭到破坏。在高分辨率结构信息丢失之前,通常可以使用 10–30 e-/Å2 的总剂量。为了防止样品遭到破坏,可以在捕获图像之前,使用低剂量成像程序导航至所需的区域并将焦点对准 TEM。

K2 Summit 电子计数和超分辨率模式具备高 DQE,可帮助您获取易碎生物样品的最优质的图像。这些图像具有较高的信噪比,可帮助您辨别 3D 粒子重建过程中的水分子、离子和配体结构。您还可以利用 K2 照相机上的剂量分割功能,进一步改善图像质量,该功能以最高 40 帧/秒的速度保存完整的帧,随后可以纠正样品移动并尽量减少移位。

第 5 步:分析和重建

成像之后,Gatan Microscopy Suite® 软件会帮助您进行分析,并以多种格式导出数据。Gatan 照相机获取的数据将导入各种第三方软件工具,用于进行 3D 重建和虚拟化,包括 EMAN、Frealign、Relion 及许多其他工具。图中显示了 20S 蛋白酶体(分辨率为 2.8 Å)的 3D 单一微粒重建过程。
回到顶部