Introducing Rio™, Gatan's latest CMOS camera that with its resolution, speed, and ease of use will revolutionize electron microscopy (EM). Using a Gatan exclusive Gpixel CMOS sensor, the Rio camera dramatically improves the user experience and results in routine EM imaging, diffraction studies, high-speed tomography, 4D STEM, and much more!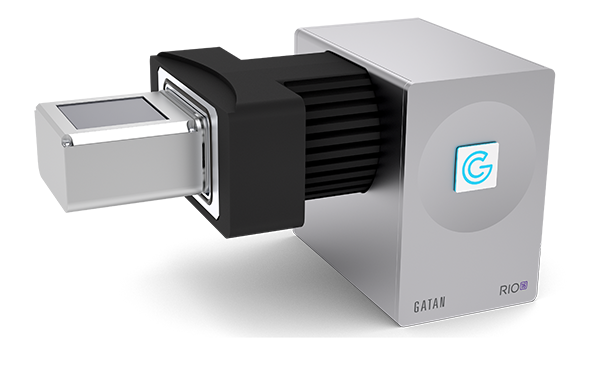 Capabilities
High-resolution, fast, easy to use, robust scintillator camera for use in all TEM applications up to 200 kV.
High resolution: 4, 9, and 16 megapixels (2048 x 2048, 3072 x 3072 and 4096 x 4096 pixels), ≥6% DQE at half Nyquist (200 kV)
High speed: 15 – 20 full frames per second
Easy to use: Manage your entire experimental workflow from one technique panel and eliminate drift with single-click drift correction
Rio 4 available for 120 kV only, Rio 9 and 16 available up to 200 kV
In-situ option available on the Rio 16
Capture fast in-situ events you've never seen before with up to 160 frames per second for 1024 x 1024 pixels field of view
Utilize Gatan's exclusive LookBack feature to ensure the capture of your full event
All Gatan cameras now feature custom designed CMOS sensors and drift correction, both exclusive to Gatan. With these best-in-class cameras, Gatan again sets new benchmarks in high-performance imaging in electron microscopy.
I'm ready to discuss the Rio camera Let's Talk 
Specifications are subject to change without notice.